Refinishing kitchen cabinets is a great way to update an existing kitchen without a major renovation. A few coats of paint can make a big difference if it's done well. Below are some of our best kitchen cabinets refinishing tips to ensure the project goes smoothly.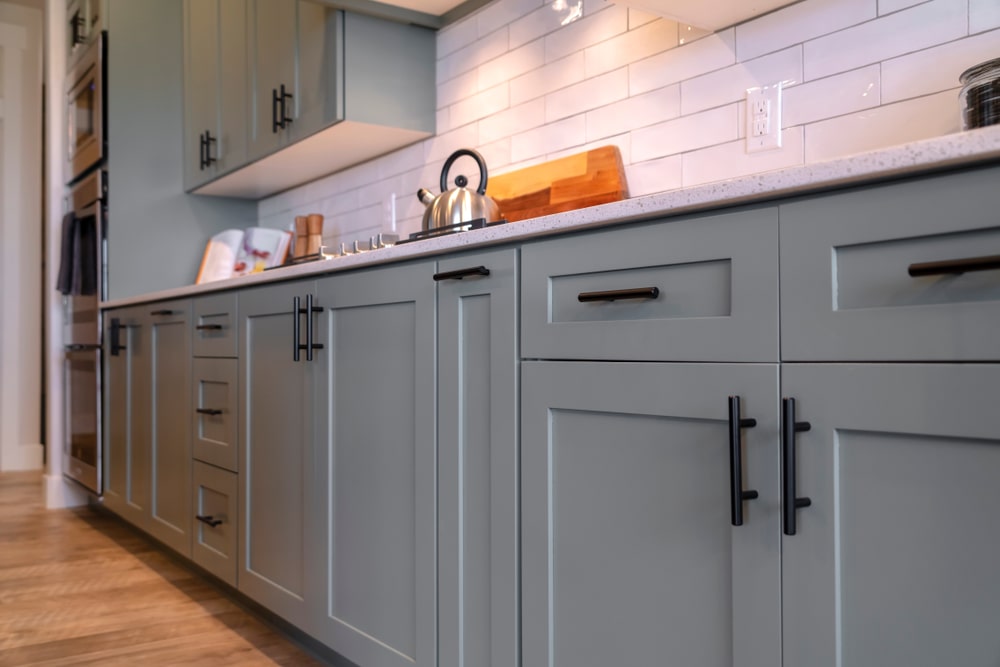 1. Be extremely organized with your prep work
The key to a quality cabinet refinishing job is in the prep work! Taking the time to prepare saves you time in the long run and avoids costly and time-consuming mistakes. Start with:
Protecting your floor and countertops with canvas drop cloths or builder's paper
Cover backsplashes and appliances
Label and number all of the doors and drawers so that you know where each one goes
Remove doors and drawers and stage them for cleaning
Cover cabinets and drawer boxes with plastic to prevent dust from getting in
Clean cabinet and drawer boxes with soap and water to remove grease and food residue
2. Prepare the wood for stain
Once the cabinet doors and drawers are completely dry, it's time to sand, vac, and tack. Using medium-grit sandpaper with an electric hand sander, sand off the existing finish thoroughly. You want to give the doors and drawers tack for adhesion. This process can mean the difference between cabinet refinishing full of bubbles and a smooth, professional look. Vacuum the particles with a shop vac and wipe with a damp cloth to remove residual dust. Be sure the cloth is just damp and not wet, as water can leave spots.
3. Choose the right primer
This goes without saying, but choosing a quality primer is very important. You want one that is easy to apply, adheres well, and blocks stains. Apply the stain as evenly as possible with a brush or roller. If you're concerned about the smell, there are primer options available with very little odour so you and your family can stay comfortable in your home.
4. Have the right tools
For cabinet refinishing, we recommend choosing a paintbrush with super fine nylon bristles or a roller with a high-quality woven cover. Paying a little extra for quality tools is an investment. Low-quality brushes and roller covers often shed fibres, which will give you a bumpy finish.
5. Update cabinet hardware and countertops
Last but definitely not least, consider updating the hardware and the countertops to match your newly finished kitchen cabinets. The hardware, including drawer knobs and faucets, is a small detail that makes a big difference in the look and feel of your kitchen.
When it comes to countertops, many homeowners believe that an update requires an extensive renovation that includes removal of the existing countertop to lay down a new one. However, there are countertop overlays available in Quartz, Granite, Corian, and laminate. Countertop overlays give you the beauty and luxury feel of a new countertop without the major installation!