Most homeowners will agree – finding a place for everything and having everything in its place feels like a pipe dream, especially for small spaces. The good news is, there are smart and innovative storage solutions available that will ease the overwhelm and create a beautiful, organized environment.
If you're finding yourself squeezing your belongings into an already-packed closet or constantly reaching your arm through the cabinet for an item, it's time to revamp your home storage system. Here are three of our favourite tips to get you started.
1. Take inventory of under-utilized areas
You'd be surprised by the amount of under-utilized space you have in your home that makes for excellent storage space. We recommend walking through each room to take note of space that has the potential to be transformed into a storage area.
Corners: Add corner shelving to take advantage of closet corners, in bathrooms, in your kitchen, pantry, and virtually any room in your home. A great accessory to add is a rotating organizer to optimize your space further.
Under the stairs: With a custom solution, the space under your stairs can be transformed into a beautiful storage area complete with flooring, fresh paint, moulding, and light fixtures—a perfect place for holiday decorations, old toys, and other valuable items.
Hard-to-reach spaces: Some common hard-to-reach areas are deep pantries, cabinets, and closets. These spaces are not used at all, or items are pushed to the back and forgotten. The use of roll-out drawers provides a simple yet effective solution for this storage problem.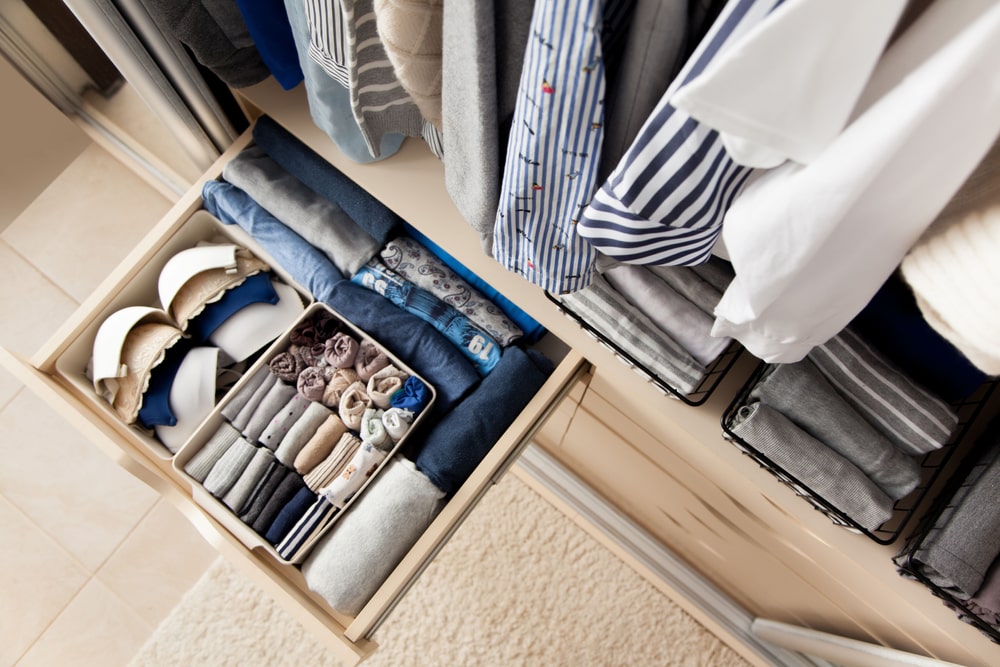 2. Hire custom closet solutions
No matter the space you're working with, Calgary custom closet organizers can create a storage system completely tailored to you. While there are a few quality custom organization companies providing their services, there is a difference between working with a US-based company like California Closets and a Calgary-based company.
Choose a local Calgary custom closet organizer with experienced craftsmen who prepare, cut, and assemble each drawer by hand. Building your custom storage solution using locally-sourced materials is a sustainable option that supports the environment and the Canadian economy.
3. Think outside of the box
Storage solutions are not a one-size-fits-all approach, as everyone has unique needs and lifestyles that require different systems. For example, a closet solution tailored to you and your space can include extra hooks for sporting gear or additional roll-out drawers for expensive jewellery.
You can hang tools and find innovative solutions for storing sporting goods in your garage. Accessories like hanging baskets, wall mounts, and hooks provide easy and practical storage solutions for any space. Think of ways that your home can be more manageable and seek the help of a professional closet organizing company that can create custom accessories for you.
Final thoughts
Packed utility closets, cluttered pantries and cabinets, and messy kids' closets cause stress and overwhelm for many homeowners. Getting ready in the morning becomes unnecessarily time-consuming, and working through the utility closet for cleaning supplies becomes a daunting experience.
As you walk your home, imagine the feeling of having an organized space and a more efficient way of living. A harmonized space brings ease, convenience, and more time to enjoy your home.