Cabinet refacing is an affordable and non-invasive approach to refreshing the look of any kitchen. If you're not ready for a full renovation, consider replacing the cabinet drawers and door fronts over existing boxes and face frames. Professional cabinet refinishing companies in Calgary can have your kitchen cabinets looking brand new in a few simple steps.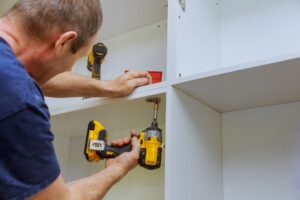 1. Arrange A Consultation
The first step in the cabinet refacing process is to schedule an in-person or virtual consultation with a kitchen restyling expert. Come equipped with your vision, ideas, and pictures of the desired look for your kitchen. A consultation with an expert can enhance your ideas and offer accessories, finishings, and other material that you may not be familiar with.
2. Design & Set A Date
Once you've determined the colour, style, finishes, and accessories of your cabinet refacing project, a professional cabinet refacing company will use specialized software to provide you with accurate pricing. After you've approved the plan and budget, be sure that the company you hire provides a detailed contract before carrying on.
A contract will ensure transparent communication and avoid any misinterpretations during the process. During this time, dates are determined for a detailed measure and the installation of your new kitchen cabinet refacing. Expect to put down a 50% deposit to have your project secured.
3. On-Site Measurement
An in-person measurement is by the far the most important stage in the process. An expert will need access to all areas included in the project scope to ensure that the necessary products are ordered or made on time. This is a good time to make last-minute changes as any requests during the installation process may incur additional charges.
4. Professional Installation
On the day of installation, your professional installers will arrive with:
All necessary tools and equipment
Cabinet doors and drawer fronts
Hinges, handles, hardware
Any additional accessories required
Specialized tools ensure that the installation time is minimized so that you can see the finished product in just a few days.
Is Kitchen Cabinet Refacing A DIY Project?
While savvy and detailed homeowners can absolutely complete a kitchen cabinet refacing as a DIY project, professional work avoids costly mistakes and saves time. Additionally, quality cabinet refacing in Calgary comes with a restyling warranty that covers all parts and labour, as well as a warranty for warping, peeling, chipping, or fading.
Before you hire a professional cabinet refacing company, ask about their warranty policy and examples of their work to guarantee that you're receiving superior craftsmanship.